Friday 15 February 2013 - 7 - 10pm firstsite Gallery Colchester
other/other/other present first/site/night

£5 per person, includes refreshment, just drop-in!
other/other/other are taking over Firstsite for the first time. We are making work which responds to the current exhibition "Nigel Henderson and Eduardo Paolozzi: Hammer Prints Ltd 1954-75″ and to the amazing architecture of the Firstsite building. Expect playful encounters, revised interpretations of Hammer Prints, and quite literally a different perspective on the firstsite building.
May 2012

I have been commissioned to be a waiter in the Hunt & Darton Cafe which will be open throughout May in Cambridge.

Hunt & Darton Café is part of the Live Art Collective East programme, supported by the National Lottery through Arts Council England and produced by Artsadmin. The Café will be part of The Junction's Spring programme and will be publicised both regionally and nationally.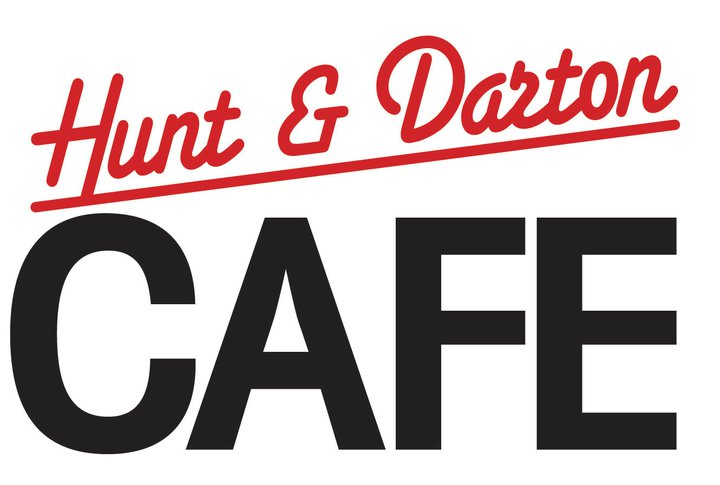 Friday 18 May, 7.30pm & Saturday 19 May, 2.30pm & 7.30pm
Myself, my son and my Mum will all be performing in this Norfolk & Norwich Festival UK Premier show. This will be the first time I've performed with my family and the first time either of them have done anything like this - so it should be 'interesting'!

100% Norfolk
Norfolk & Norwich Festival and Rimini Protokoll in association with Norwich Theatre Royal
A show about the population of Norfolk… starring the population of Norfolk. 100% Norfolk promises to be one of the highlights of the 2012 Festival. We've recruited 100 ordinary Norfolk folk who are a living embodiment of the census. They represent us. They come together on the stage of Norwich Theatre Royal as questions are asked about their habits, lives and beliefs in a live game show played by 100 players. Interwoven with stories about their lives, 100% Norfolk creates a living, breathing spectacle, a portrait of who we are and the place we live.

Fun, uplifting and always absorbing, 100% Norfolk is a must-see for anyone who loves the place they call home. 100% Norfolk is based on an ongoing project by Rimini Protokoll from Berlin, which has so far included 100% Berlin, 100% Vienna and 100% Vancouver. The company's work draws on the views of 'experts in daily life' to create contemporary and imaginative productions where everyday people are the theatre's principal characters.

This performance lasts approximately two hours.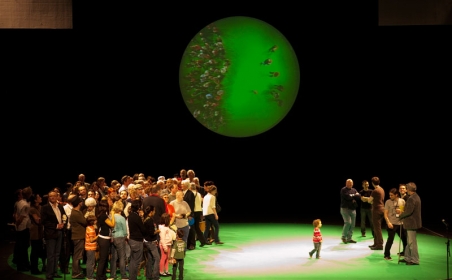 Colchester Arts Centre Retreats 2010 & 2011
I've bunched these images together although they spread over two different years.
The weekend retreat is designed to revitalise and inspire artists and help them re-examine or re-define their current practice.These retreats are organised by Anthony Roberts at Colchester Arts Centre and run by Leslie Hill and Helen Paris of 'Curious' http://www.placelessness.com/ who are currently acting as regional mentors to LACE (Live Art Collective East)
Both weekends have been hugely inspirational and amazing fun building upon and developing new skills, but most of all a great two days of getting to know other practitioners in the region.
2010
We were asked to develop a performance which was site specific working either independently or as a group.
I chose to take the group out and pick plums to offer the hotel chef as a thank you for feeding us such great food all weekend.
2011
This time I collaborated with Jenny Hunt working on an idea inspired from an earlier task of objects inside a suitcase and the words - 'here' and 'there'.
The object chosen from the suitcase was a French stick and we had a battle of crawling and eating whilst Jenny said 'I'm here' and I said 'I'm there' It was a battle of wills to see who could carry on eating dry bread whilst spread eagle on the floor and who would give in first.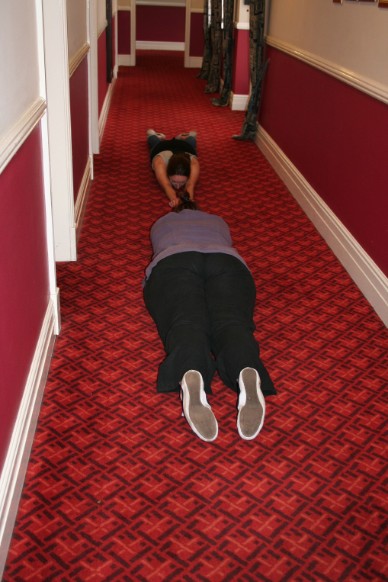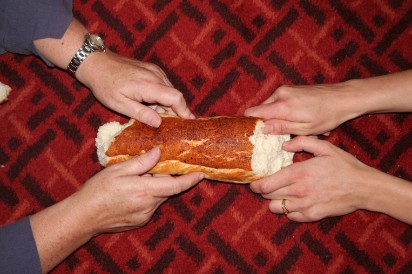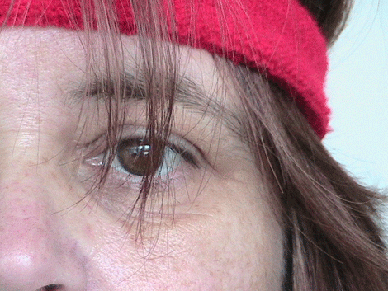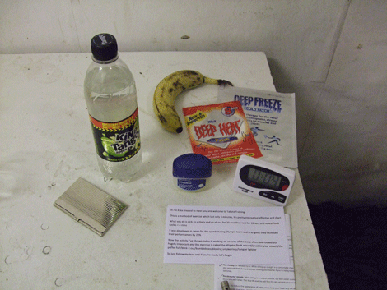 To celebrate the passing of the Forest Café as home of the Forest Fringe in the Edinburgh Festival, Stoke Newington International Airport return to the Forest Fringe, for one night only on Friday 26th August at 11pm, with Live Art Speed Date. Live Art Speed Dating is an innovative exploration into intimate experiences between artist and audience. In a vibrant fairground atmosphere with live music, private encounters between artist and audience occur in booths, across tables and in dark corners.
We had 4 minutes with each date and the performance was to repeat over the 2 hour evening.
My speed date was: Tabata training – a method of exercise that lasts only 4 minutes but absolutely kicks your ass. Pick an activity and go all-out for 20 seconds, then rest for 10 seconds. Repeat this cycle 8 times for a total of 4 minutes.
This was developed for Olympians, and at the end of 4 minutes it left them lying on the floor. So if you're not in great shape, Tabata workouts are probably too intense. I'm not in great shape!
It will take physical and mental strength, so do them with a friend for motivation. Join me our time starts now.
I'm overweight and unfit so my Tabata Training routine was facial yoga exercises. It got a lot of laughs, shocked looks, competitive spirits and locked jaws!
----------------------------------------------------------------------------------------------------------------------------------------------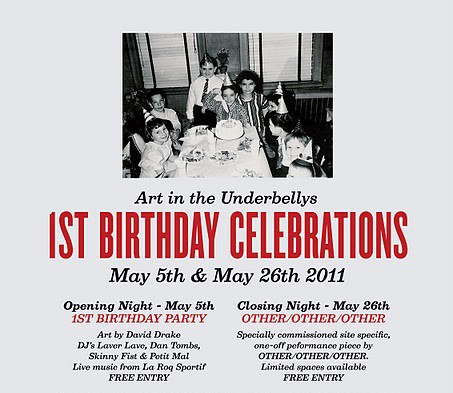 The performance collective other/other/other will be performing a site specific piece in
direct response to the Underbelly, Rumsey Wells public house, St Andrews Street,
Norwich, for your delight and entertainment, its a one-off so come and join us.
-----------------------------------------------------------------------------
Norwich Fringe Festival 2011 cometh...May 13th-28th 2011
I've been proofreading for the Norwich Fringe Festival and there are some amazing acts coming to town: check out the website and book those tickets http://www.norwichfringefestival.com/
---------------------------------------------------------------------------------------------------------------------------------------------------------------------------------------------------------------------

I am learning to 'snap my napkin' as an extra in this amazing work from Artichoke Productions @ Norfolk & Norwich Festival 2011:

you are invited to a magical, if topsy-turvy, dinner party. Follow in Alice's footsteps and find yourself in Wonderland, all is not what it seems. http://diningwithalice.co.uk/

----------------------------------------------------------------------------------------------------------------------------------------------------------------------------------------------------------------------

I'm presently crocheting face masks for 'A Good Clean Run' part of Norfolk & Norwich Festival 2011:

come join other/other/other with trainers, water and lots of enthusiasm http://agoodcleanrun.wordpress.com/